This year, the sold out second edition of Lollapalooza Berlin featured a strong artist roster alongside a great new location. The move from the concrete jungle of Tempelhofer Feld (the former Berlin airport) farther east to Treptower Park was a rewarding choice. It gave the entire festival that "festival" feeling it was missing last year: shaded chill out areas, a maze like layout and massive performance stages. Approaching the sea of dancing bodies at the largest main stage from behind felt like approaching an oversized dirt field in the middle of nowhere. And for a city festival, that is a job well done.
I was only there on Sunday, so even though I sadly missed electronic legend Paul Kalkbrenner, I was still able to catch a pretty wide roster of acts. The various stages kept their designated names from last year, but were now spread throughout the park, allowing for a bit more intimacy, and of course shade on a sweltering hot Berlin day.
Olly Alexander, frontman of the band Years and Years sang rom their debut album Communion, while grinding around the stage in black booty shorts and covered in glitter. And Major Lazer gave zero fucks, throwing a dance party that made sure their presence at this festival was known. Their show is definitely something worth witnessing. Major Lazer know how to hype a crowd, and they also know how to have a good time. Not to mention their discography, which is such a diverse collection of styles that it's pretty hard to stand still. Whether it's Diplo crowdsurfing inside of a translucent plastic ball, or Jillionaire screaming at the crowd to take their shirts off, they are one of the reasons why festivals have become so popular. This level of spectacle is very hard to recreate inside of a club.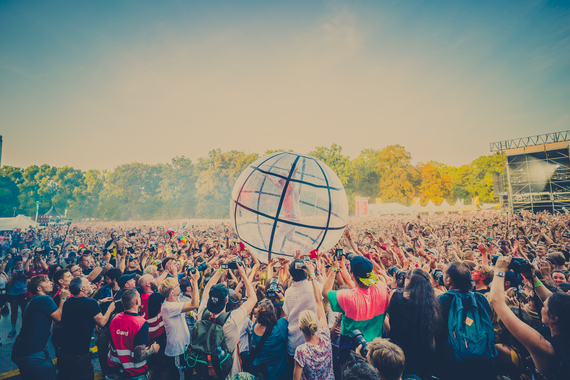 Diplo, photo by Johannes Riggelsen
Lost Frequencies, who recently remixed the Major Lazer, Justin Bieber, MØ track "Cold Water," and who was also one of this year's breakthrough acts played on the EDM focused "Perry Stage".
What was the process like of making the Cold Water remix?
I was so excited to be asked to complete my own remix for this record! I love the original and had a cool idea in my mind of what I wanted to put in my edit of the track. Major Lazer create great songs, it's hard to really improve on what they do but I like being able to experiment with new sounds and they're the masters of records with great energy. So adding a little twist on that sound with my own sound is all I really wanted to do.
How was the experience of playing at Lollapalooza?
I absolutely loved it! What an amazing festival and the crowd was one of the best this summer. It's great to have the chance to play to so many passionate music fans. I hope to be back again next year!
Was there a moment in the set that stood out for you?
Hearing the reaction to my new single 'Beautiful Life' was something really cool and was a standout moment for me because the record is something I've been working on for so long. It's always hard to guess how people will react to your music but seeing it happen in person on a stage like the one at Lollapalooza is what being a DJ is all about!
Do you have any projects coming up this Fall?
I am about to release my new artist album. For me this is a very special moment because it is my first album and so I'm a little nervous and excited to see what the fans think; but I believe they love it!
What about Beautiful Life? How was creating that and how is this different from creating a remix?
This record took a lot longer to complete but that's not unusual when it comes to working on an Original track over say a Remix. The process can be more difficult because you are starting from scratch. With this new single, I wanted to ensure my follow up single to 'Reality' was something special and because I was also working on my album, the whole process was one I wanted to take time on to make sure I deliver the best music I can. It means a lot to me to create music which has a timeless feel and that's definitely how I want this album to be for the listener.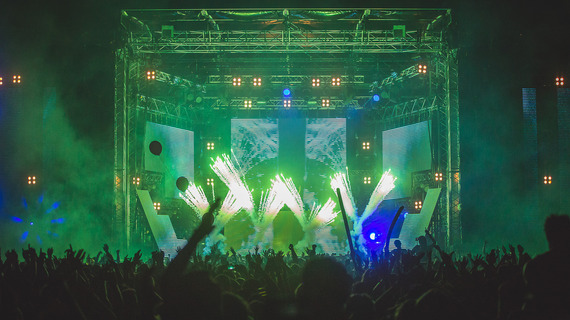 Zedd, photo by Steve Klemm
You might be hard pressed to find many tracks from the Perry Stage in the sound system of a Berlin club, but I am assume this is one of the reasons that the festival has decided to curate the sound in this way. And nevertheless, those playing on both days represented some of the top DJ's in EDM, including German born producer/DJ Tujamo.
What was the experience like playing at Lolla?
It was definitely a highlight for me this year. Playing alongside artists like Major Lazer really is a great feeling. Lollapalooza is such a legendary festival and playing it as a German in Germany, I felt super honored to be part of it.
Was there a special moment or special track in your set?
Definitely when I played my latest single 'BOOM!' which has just been released this week. Great reactions and great moment!

How did you prepare compared to other gigs?
Actually it was a very typical Tujamo set. I haven't been playing a lot of shows in Germany, some very cool festivals in the summer. But this was my first time in Berlin ever, so again something special for me.
Do you have any projects coming up this fall?
Yes, I'm working on something a bit different style wise at the moment. Super excited about this one. Also more Tujamo sound on the way and some collabs.
But this year's festival was all about Radiohead. Their show Saturday night was the main draw for many festival attendees. Playing for over two hours, Thom Yorke's powerful, wailing voice, soared through the still night air bringing to life tracks that I listened to repeatedly in my youth but never heard live. Radiohead's lyrics are incredibly poignant and personal, but their musicality and integration of both traditional instrumentation and electronic machinery is what makes them so unique and borderline untouchable. Highlights of their set included "2+2=5," "Paranoid Android," and an encore featuring the forever timeless "Creep".
Calling all HuffPost superfans!
Sign up for membership to become a founding member and help shape HuffPost's next chapter